Get the BOOK
Sullivan, Precalculus, 10th edition. (Caution, there are two different Precalculus books in the bookstore)
I do not use Webassign so you do not need to purchase a code.
.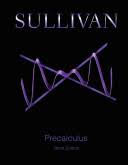 Review 
The two biggest predictors of success in Math 7AB are your (1)  willingness to be committed and work hard and (2) your knowledge of Pre-requisite material. In particular,
7A:
Algebra Skills: You should be VERY proficient at all of the material in Appendix A and Chapter 1 especially: exponents, radicals, geometry, factoring, fractions, rational expressions, complex fractions, solving linear and quadratic equations, graphing linear functions, interval notation and inequalities. We will breifly review SOME of these skills but we will go through it VERY quickly. I suggest you do the Highlighted Homework sections from unit 2 and Appendix A BEFORE class begins and review those areas you are not confident in.
7B:
Algebra Skills: If you weak in this area or if your 7A class did not thouroughly review them, I strongly suggest you do the review problems and worksheets on the assignment sheet before class begins.
Trigonometry: It is presumed that you learned the beginning of trigonometry in 7A. Specifically, you should know how the trig. functions are defined, trig values, trig graphs, and inverse trig functions. This material will be reviewed very quickly. I suggest you review on your own and do the trig review worksheet which will be due as homework.
 Read and Explore
Math 7AB - Mathematical Analysis